04 Sep

Learning the Architecture of MES

A manufacturing execution system (MES) is an information system that connects, monitors and controls complex manufacturing systems and data flows on the factory floor. The main goal of an MES is to ensure effective execution of the manufacturing operations and improve production output.

An MES helps achieve that goal by tracking and gathering accurate, real-time data about the complete production lifecycle, beginning with order release until the product delivery stage for finished goods.

The MES collects data about product genealogy, performance, traceability, material management and work in progress (WIP) and other plant activities as they occur. This data, in turn, allows decision-makers to understand the current settings of the factory floor and better optimize the production process.
Manufacturing Execution System Architecture
The Manufacturing Enterprise Solutions Association (MESA) International, an organization that aims to improve operations management in manufacturing through the effective application of IT, defined the scope of MES in 1997 through the "MESA-11" model. MESA -11 is the earliest MES model and indicates 11 core functions of an MES: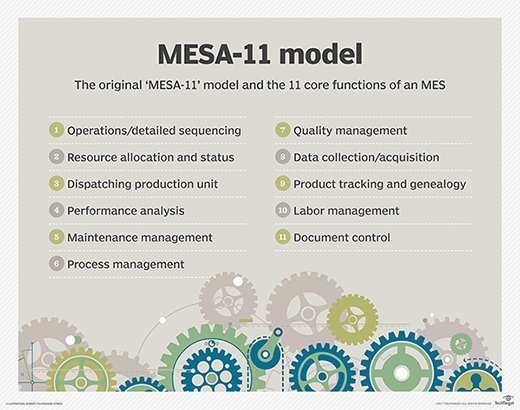 The ANSI/ISA-95 standard merged the MESA-11 model with the Purdue Reference Model, creating a functional hierarchy. In this model, MES was established at the intermediate level three, between enterprise resource planning (ERP) at level four and process control at levels zero, one and two.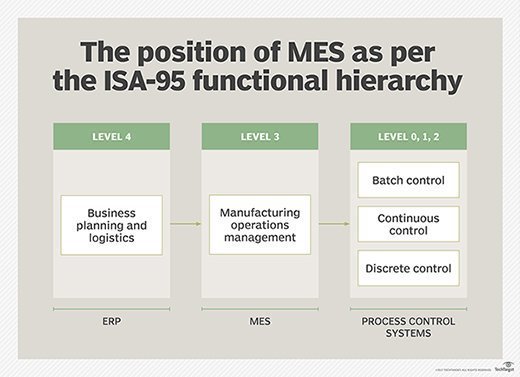 What makes the MES system important is that it serves as a functional layer between the ERP and the process control systems on the factory floor, giving manufacturers real-time workflow visibility, flexibility and insight into how best to improve enterprise-wide manufacturing operations.
In addition to these core functions, an MES enables manufacturers to overcome the challenge of regulatory compliance set by the Food and Drug Administration (FDA) for regulated industries such as pharmaceuticals, food and beverage, medical device class, and biotechnology, as well as biologics developers and contract research organizations.
MES maintains an "as-built" or device history record (DHR) for each product unit and batch by collecting data, processes and outcomes of the manufacturing process for compliance with Title 21 CFR Part 11 and Part 820 of the FDA regulations.
Additionally, an MES can benefit both discrete manufacturing for industries such as aerospace, defense and automotive, and process manufacturing for chemical, oil and gas, power and energy, and pulp and paper industries.
Benefits of a Manufacturing Execution System
An MES is often integrated with ERP, supply chain management, product lifecycle management and other key IT systems. A key benefit of using an MES includes:
Increased customer satisfaction
Improved regulatory compliance
Better agility and time to market
Improved supply chain visibility
Reduced manufacturing cycle time
Elimination of paperwork and manual data-entry processes
Reduced order lead time
Lower labor costs
Reduced WIP inventory
Increased machine utilization
Top Manufacturing Execution System Vendors
There are several vendors in the MES market who offer suites and applications that are both on premises and in the cloud. Some of the leading vendors include IQMS, ABB, Schneider Electric S.E., Aegis Ltd., Epicor Software Corp., 42Q, Plex Systems Inc., Rockwell Automation Inc., Aspen Technology Inc., Apriso Corp., and Siemens A.G., among others.
Transparency Market Research, a market intelligence company based in Albany, N.Y., predicted that the global MES market will reach a compound annual growth rate of 11.1% between 2015 and 2025, and attain a value of $19.36 billion by 2023.Original Source